… what happened to Jack Hetherington ???
Saw him last week sitting behind the bench with the other injured players.
My guess is he is injured.
Ok, thanks for that Steve.

Team list Update: Both Dylan Edwards and Tyrell Fuimaono dropped from extended lineup. Both will play the Canterbury Cup match against Mounties on Saturday
That was hard to watch.
3 injuries just add to our woes.
Blake was absolutely awful
Quite a few injuries and players on report from the Raiders match
Injuries
Villiame Kikau was taken from the field with a Knee/Ankle injury (Possible MCL/ACL). Scans to confirm.
Issah Yeo was taken from the field with a Dislocated Shoulder Depending on severity, it could be downtime from 3 weeks to 6 months. Scans to confirm.
Malakai Watene-Zelezniak was taken from the field with a suspected broken rib. Scans to confirm.
On Report
James Maloney on report for DANGEROUS TACKLE
Liam Martin on report for DANGEROUS TACKLE

Round 8 Man of the Match voting is now open here.
To say I am frustrated is an understatement. I know as well as most on here what this team is capable of.
I know there are many who were not a fan of Griffin, but last year, even when we gave away a bad start, the fitness and ambition to win was there and it got us well into the finals. I can't say the same about the 2019 Panthers side. They look defeated, and the further they get on the scoreboard the more things go wrong.
Whos to blame? What's really going on? I have no idea. But as sad as it seem, only 8 games into the premiership, it looks like we won't see a finals appearance.
Just let that sink in for a second, based on out 2018 performance, the Panthers were touted to be well in the finals picture before a ball was even kicked, a real premiership force. Eight round later, we have commentators, fans, and the rugby league community wondering if the Panthers will snare the wooden spoon this year.
Ok, now that is out of the system I'll go on to the positives.
Caleb Aekins is brilliant. Fullback is not a easy position to play, a real pressure position, but the kid eat pressure up like he can't get enough of it. Edwards has quite a battle to regain his position in first grade.
James Tamou. At 30 years on age, it looks like he is playing the best footy of his life. The individual effort to score today was amazing. I completely understand why he was selected a captain. The man plays with purpose, intensity and pride. The team can definitely learn from that example.
Wayde Egan is looking the goods. He looks to be the better hooker and his defence is looking better (only 2 missed tackles today). He is also a great option to put in a sneaky stab kick or grubber at the line as well, something we have missed since Wallaces retirement last year. If he keeps it up he will be a regular starter.
… personally a cow of a day for family. Hospital, doctors,x-Ray's.
I'm glad I missed this match. It's a difficult choice these days
sitting in a waiting room or watching Panthers. Don't make me choose.
Agree with you4 comments above…the 3 players you mentioned are our best at the moment…as a team we are going nowhere…we need some spark we really miss whatTyrone Peachey brought to the team. I would be brining in Brian ToO into the teamin place of Mansour and having Jerome Laui on the benchin place of the second hooker.
Would have loved to go back to my childhood hometown to watch the game, but once again, watching an away game after a long day at work (something I unfortunately have to do for now due to circumstances beyond my control).
I was hoping to have something to crow about to a new workmate (and former Raiders player), but he gets the last laugh today.
Again, fundamental errors & stupid penalties are killing us. We are losing our cool too easily when things don't go our way & compounding it with acts of stupidity. Injuries didn't help the situation, and I am wondering about the quality of our depth moving forward.
Our attack & fitness isn't a shadow of what it was last year. Early on I put some of this down to Ivan shaking up the combinations, but having switched them back, I would have expected us to be playing better than we are at the moment. I also think we are relying too much on Kikau making the break & creating something.
Having run my eyes over the stats, they look to be the best we have had all year, but we still managed to lose. Pretty much highlights my last 2 points.
There's still a long way to go, but I'm starting to doubt our ability to turn it around.
… I felt during trials we couldn't afford both Cleary & Maloney
in the same side anymore. Tamou has the (c) but who's really
running the show. Maloney was a Gould man and Cleary, well,
he outta have some idea what his ole man's thinking. Throw
Luai in as Cleary's partner to add that 'Preston' unpredictability.
We seem to have found our hooker and add a new fullback,
let's get this show on the road.
I have just arrived home after being in Wagga to watch the boys live
Firstly congrats to Canberra for having it in Wagga and would have come at a cost because there we 10079 fans at the ground and would have heaps more if was held in Canberra but facilities were ok and ground was in good condition considering it bucketed down Thursday night in Wagga and Canberra fans were in plenty of supply but were some hardy Panther supporters like myself who made the trek like myself.
On the game it appeared we had them everywhere in the first 20 but as usual couldn't score and gave away dumb penalties for them to score.
Then when they had their FB sin binned i thought he we go but Raiders thought the same, help our inept attack out and scored themselves when they were down to 12.
In short if we don't score of Kikau rampaging or Blake batting back the high ball we have absolutely nothing and we looked terrible across the park and this includes Yeo who was injured but he is in poor form, Malakai should even be in NRL grade but they were not alone.
Puss touched on it and i have mentioned it in the last few weeks,…Maloney has to sit out our run on squad whether you can afford to carry him on the bench is subject to some debate but he cannot be on the field to begin the game and Lauai should partner Cleary and let Cleary run this team.
The injuries even add to our dilemma and i watched the boys going around prior to the main game and they have the same problem…they had Raiders beat all ends up but couldn't score…gave away dumb penalties and Raiders scored
Its clearly anise within the club
On a side note i saw Ivan and about 6 players going for a walk around 8AM from their hotel and i thought that was odd…why not the whole team?
I hope there is no fracture in the squad because of the Cleary/Cleary relationship?
But to date the buying Cleary to save Cleary has been an unparalleled disaster and to be brutally honest i cannot see this squad winning another game
If the Bulldogs had of won last night we would be last…we are 15th which is a disgrace in itself.
Pathetic - no aggression whatsoever. We are getting flogged in the ruck every week. I am sick and tired of watching RCG grab and hold, there is something wrong with him and maybe a stint in Reggie's will be a good wake up call.
I disagree with Aitkins comments Steve, although safe he provided nothing in energy or desire to get through the line, I would much rather DWZ back there even with a mistake or 2, at least he gets us on the front door and his energy builds the team. Just on DWZ, he should never play footy with his brother, what he is doing when Malaki gets 'touched' up is poor form from a team perspective.
Spoon favs now without doubt

Well I've taken a couple of days to try and work out what is happening. I, along with others at our club, seem to not know. I previously wrote that I wasn't really sure how some pundits had us favourites for the comp, but, that said, I didn't see us being bottom half, which is what seems reality now.
I don't know what's happened, but unlike what I wrote a few weeks back, it seems that good players can become poor players, if not overnight, seemingly over an off-season. It's hard to watch the guys we have been cheering on for the past few seasons going like bustards!
I know we lost by a point in the semi, but really we have been poor since about the time Griffin was sacked! Can it be that simple? We were told that the reason he had to go, and on the spot, was he had lost the players, and wouldn't work with the rest of the coaching staff. So they all got their way, and now AG is getting paid not to coach them, & they are playing like they have never been coached.
We have had all the rhetoric about pathways & academies etc etc. Some of that has worked - just look at the way some of the ex-Panthers are playing. Doesn't count for much right now, eh?
How could we have imagined we would be going into the 'Magic Round' 2 & 6 and really looking to be up against it against the tiges??? We booked flights, accommodation and match tickets in anticipation of seeing our guys performing well. Doesn't look likely now - but we will still be there

Some of the fair weather supporters are saying we will get the spoon and this is the worst team ever. We're not going well, but this squad is far from the worst we have had - I've been here since '67 and we had some terrible teams over the years. I guess that's the strange thing - we have what we thought was a strong squad & we are where we are now - how the hell did this happen? From high hopes 4 weeks out from the end of regular season, to the sh#%house now?
Just what went on from Nov 1? It was clear to see in the trial against Parra, but we didn't want to see it I guess.
what concerns me most is your term of the "rhetoric" thrust upon us by Gould
Pathways yada yada yada but its clear to see we have no depth
Whare gets hurt and we drop DWZ into his spot
We lost CHN to Bulldogs and Merrin was shown the exit and what do we have in the forwards?
And the worst feature of this is we have these guys for years all on long term contracts and NOT a single one of them would command a premium to what we are paying them and they aint going anywhere
This is where the abilities of Cleary the coach will need to come to the fore and quickly…we know this core can get the job done and cannot lose that ability in 6 months
Much has changed around them but they are professionals and so is Cleary being paid big money to get outcomes.
Maybe the only good to come out of the Raiders train wreck game is Maloney will NOT play this week and i see that as a positive with Luai surely getting the call up and with Kikau,Yeo and MWZ all out with injury gives 3 kids a crack at first grade and they couldn't do any worse.
Funny how things happen and despite the loss, injuries and suspensions just may be the back to the wall catalyst which gets us going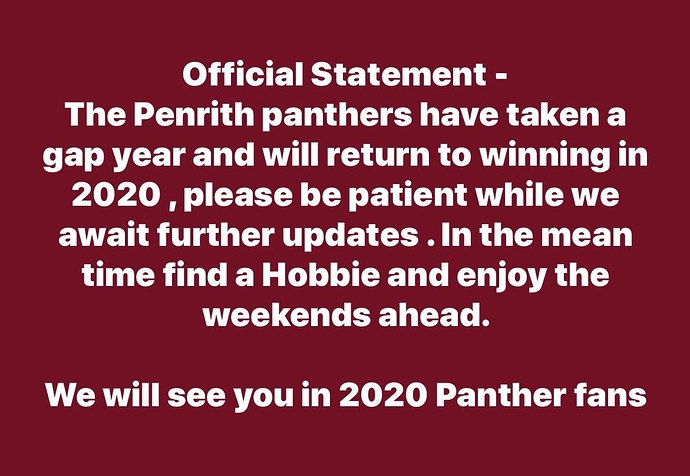 Saw this today & had to laugh. Almost seems to be an element of truth in it at moment.
As I've already alluded to, I think our fitness is nowhere near what it was last year. I wasn't much of a Hook fan, but credit where it's due, we always seemed to have petrol in the tank.
As others have pointed out, we lost a lot of depth in the off season, and with injuries starting to hit we are really going to be tested. I'm hoping we can unearth another Yeo or Kikau, but I don't see where they are going to come from.
Where's Joel Clinton when you need him?
Or Terry Geary? Or Phil Kleindienst & Colin Van der Voort? Or Lew Zivanovic?
And, while we're at it, we could use Kevin Dann or Greg Barwick at the back, Graeme Moran in the centres & Zac Olejarnik in the halves.
I could go on and on - but I won't.
No, bugger it! I think I will!
What about Dave Irvine on the wing? Or Reg Walton? Ryan Girdler or Terry Quinn & Glenn West in the centres? Noel Sing at half? Ron Lynch, Barry Ward, Ross Gigg, Bob Landers…
Ok. That's enough!
Not sure tipping us for the spoon makes me a 'fairweather' fan or not, however this is by no means the worst side mr walker and that is the bit that burns. This is essentially the same team as last year yet the RESOLVE of these same individuals is null and void.
For what it's worth, I was always a hook fan, his guise in pre season was to be the fittest team game 1, I doubt our boys are even close to the fitness of round 1 last year heading into game 9 this year.