I'll start with Dean Whare
Centres (Not played a Grand Final and >20 matches)
| Player | Apperances |
| --- | --- |
| Dean Whare | 116 |
| Ross Gigg | 93 |
| Brad Tighe | 86 |
| Waqa Blake | 77 |
| Glenn West | 58 |
| David Woods | 53 |
| Sid Domic | 52 |
| Danny Galea | 47 |
| Ken Wolffe | 44 |
| Tyrone Peachey | 41 |
| Gary Pethybridge | 32 |
| Jamal Idris | 27 |
| Terry Quinn | 26 |
| Rod Wright | 23 |
| Chris Houghton | 22 |
| Adrian Purtell | 22 |
| Maurice Blair | 21 |
| Paul Franze | 21 |
Centres (Ineligible. Played in a Grand Final)
| Player | Apperances | Reason Ineligible |
| --- | --- | --- |
| Ryan Girdler | 170 | Penrith (2003) |
| Brad Izzard | 129 | Penrith (1990, 1991) |
| Michael Jennings | 119 | Sydney (2013) |
| Col Bentley | 85 | Penrith (1990, 1991) |
| Graeme Bradley | 66 | Dragons (1993) |
| Luke Lewis | 63 | Panthers (2003) Cronulla (2016) |
| Paul Whatuira | 55 | Panthers (2003) Wests (2005) |
| Shane Elford | 44 | Wests (2005) |
| Brad Fittler | 39 | Penrith (1990, 1991) Sydney (2000, 2002, 2003, 2004) |
| Stephen Crichton | 35 | Penrith (2020, 2021) |
| Matt Sing | 29 | Sydney (2000) North Queensland (2005) |
| Brent Naden | 25 | Penrith (2020) |
| Isaah Yeo | 24 | Penrith (2020, 2021) |
Glenn West was pretty good from memory
The 'Peach' was pretty handy on his day.
If you think about them fit and at their peak, how do you go past Jamal Idris.
That list of ineligible players is impressive
Yes Mutley, winners usually are impressive

More impressive than the list of fullbacks & wingers who didn't qualify
Looking at that list, and from my memories I would nominate.
Dean Whare
Brad Tighe
Sid Domic
Danny Galea
Tyrone Peachey (Though I thought he was a better utility)
Waqa Blake
I was thinking that already in this process it seems that even though we only have played in 5 GFs in 50+ seasons, the majority of our better players, in the positions looked at thus far, have been in our most successful teams, or have seen success at other teams. Some slim pickings to choose from for me.
I think that some eligible have somehow been missed in the sorting - Graeme Moran & Dave Applebee for examples.
Very good pick up- Moran should defiantly be nominated for centre.
I think the problem maybe that appearance and position statistics (at least that I can find), start from 1974. In '74 alone Moran played 18 games at centre, so since '67 would defiantly played 20+
Yeah, these lists are pulled from statistics. It is by no means a definitive list.
As @SouthernHillFan has pointed out, the records are a bit sketchy prior to about the mid 70's, and as a product of the early 80's myself, there will undoubtedly be blind spots.
Please, if you see something not on the list, please nominate them.
yes I see what you both are saying about early records.
Moran should be definitely nominated. He is one of our Hall of Fame men.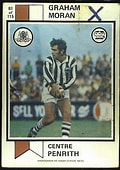 I will include Moran & Applebee in the voting. They have both played more than enough games for the club, and I would assume that they would have played enough games in the centres to warrant nominations.
Anyone game to nominate the last 3 players on the eligible list….I think not

I'd take all 3 of them over Galea!!!
The only one that doesn't come to mind is David Woods.Looked him up and he played from 1998 to 2001. Ex Parrammatta player.