Kevin Dann

Michael Gordon

Dean Whare

Grahame Moran

Robbie Beckett

Greg Clements

Peter Wallace

Nigel Plum

Sam McKendry
Coach
Congratulations to Kevin Dann, being voted our greatest fullback never to play in a Grand Final.
A Blacktown junior, who played 121 games for Penrith from 1977-1984, scoring 322 points (40 tries, 100 goals, 1 field goal). He was a fan favourite, who was regularly one of our best, during some lean years.
He became the first Panthers junior to represent NSW in 1980, in a non-State of Origin game.
In 2006 he was nominated as fullback for the 40th Anniversary "Team of legends", but lost to Rhys Wesser.
He unfortunately passed away in February this year, age 62.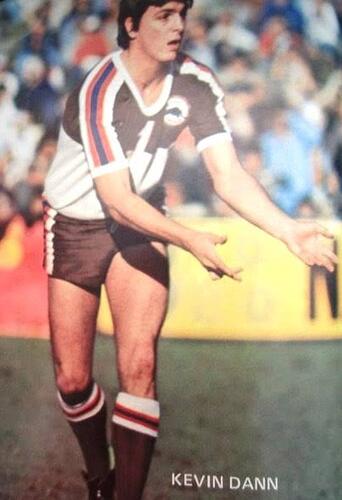 What better way to celebrate Kevins achievement with the first in the series of "Panthers Greatest Team to Never Play in a Grand Final" trading cards.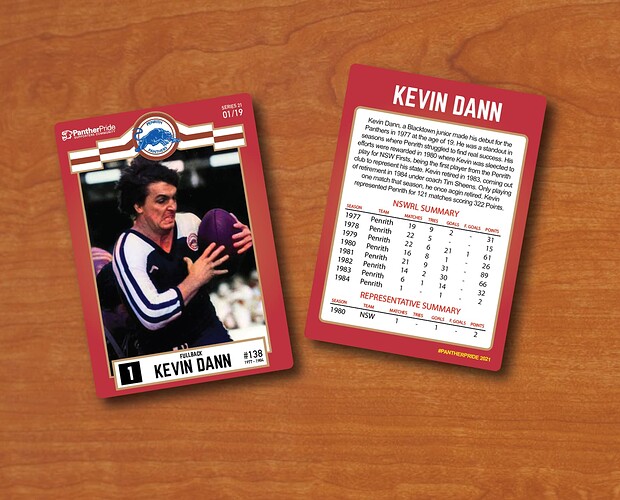 Congratulations to Michael Gordon & Robbie Beckett, being selected at our greatest wingers never to play in a Grand Final.
Michael Gordon was a Gold Coast junior, who joined Panthers prior to the Titans being admitted to the NRL.
He played 108 games at Penrith from 2006-2012, scoring 798 points, making him our 4th highest scorer.
In 2010, he created a then club record score of 30 points in a game against Souths, scoring 3 tries & kicking 9/10.
His 270 points (16 tries & 103 goals) in the 2010 season is a club record.
After leaving Panthers, he had stints at the Sharks, Eels and Roosters, before returning home to the Titans.
He represented NSW once, and NSW country 3 times.
Robbie Beckett was a Parramatta junior, who played 146 games for Panthers from 1994-2001, scoring 66 tries, making him our 8th higest try scorer,
After leaving Penrith he spent a season at Halifax, before returning to the NRL for a season with the Tigers.
He represented NSW City twice.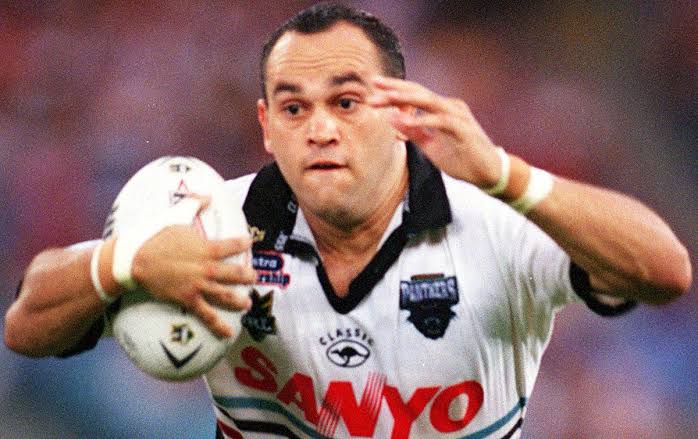 Two fantastic players - I know Gordon was an absolute fan favorite, especially with his goal kicking.
Beckett holds great memories, as my brother and I spotted him playing in lower grades, and we knew he was the goods, Fastest player in the club in the Royce era.
Robbie Beckett - as soon as that head went back, clear the runway it was time for take off.
Brought the entire stadium to its feet on many occasion…so did Flash but IMO not with the same excitement.
Congratulations to Dean Whare & Grahame Moran being voted our greatest Centres never to play in a Grand Final.
Dean Whare was born in New Zealand, and moved to Australia as a child. He played his junior football with Penhurst RSL & Arncliffe Scots, and was a product of Endeavour Sports High School.
He debuted with Manly in 2010 playing 3 seasons, before being recruited by Penrith.
He scored 31 tries in 130 games for Panthers from 2013-2020.
In 2021 he moved to the English Super League club Catalans Dragons.
He represented New Zealand 19 times, and Maori All Stars once.
He was known primarily as a defensive Centre, capable of making bone rattling hits on opposition players.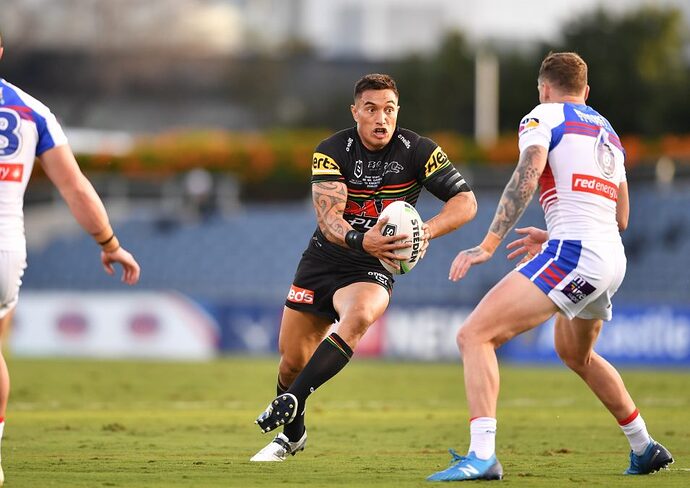 Grahame Moran was a Taree junior, who was recruited as part of Penrith's inaugural season.
Primarily a centre, he could also fill in at five-eighth when required.
He scored 25 tries in 130 games for Panthers, from 1967-1974.
He played 1 game for NSW Country, and 1 game for NSW, becoming our first representative player.
In 2006 he was named as part of our 40th anniversary team of legends.
In 2016 he was inducted into the Penrith Panthers Hall of Fame.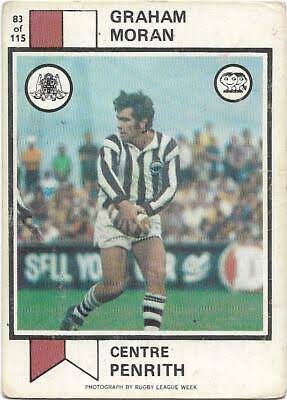 Another two well deserving players.
When comparing players from different eras, always keep in mind the change from 3 point to 4 point tries, and the limited interchanges pre 1990.
Also a significant factor, which made the game harder early on was the use of leather footballs. For those too young to remember, when they were wet, it was like holding a bag concrete in your hands.
Congratulations to Greg Clements, voted as our greatest five-eighth never to play in a Grand Final.
Greg was an Erina junior, recruited to Penrith in 1982. He appeared in 75 games between 1983-1989, scoring 16 tries, and kicking 5 goals & a field goal.
He returned to Erina after his stint at Penrith, before playing at Cowra & Cootamundra. Since his retirement he has been heavily involved with the Cowra club.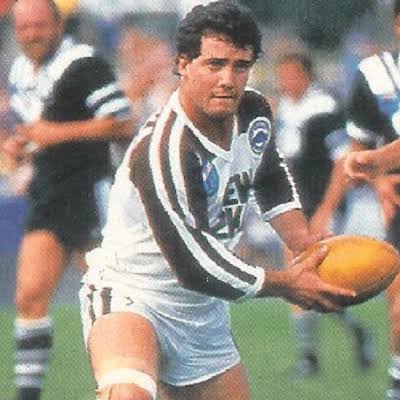 A great selection. Gave 100% out on the field and was played a big part in the Panthers during the 1980's.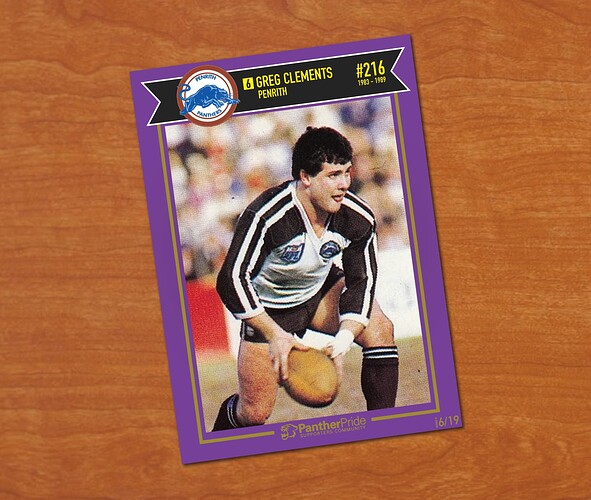 Congratulations to Peter Wallace, being selected as our greatest Halfback to never play in a Grand Final.
A St Mary's junior, he made his first grade debut in 2005, playing 20 games in 3 seasons, scoring 2 tries, and kicking 5 goals & a memorable field goal to sink the Broncos in 2007.
In 2008 he moved to the Broncos, where he would play 139 games over 6 seasons, scoring 20 tries, and kicking 66 goals & 4 field goals.
He returned to Penrith in 2014, playing a further 81 games over 5 seasons, scoring 12 tries, and kicking 11 goals & 3 field goals.
He represented City Origin twice, NSW 4 times & Scotland 4 times.
Since retiring, he has been a part of the Panthers coaching staff.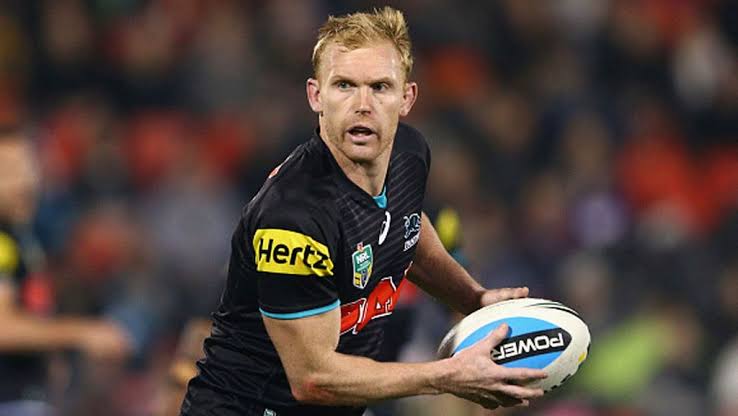 Congratulations to Nigel Plum & Sam McKendry, selected as our greatest props never to play in a Grand Final.
Nigel Plum was a Wagga Kangaroos junior, recruited by the Roosters, where he played 25 games during the 2005-2006 seasons, scoring once.
He moved to the Raiders in 2007, where he played 33 games in 3 years, scoring 3 tries.
He came to Panthers in 2010, and played 92 games over 6 seasons, scoring 3 tries.
Widely acknowledged as one of the NRL's hardest hitters during his career, he was a fan favourite for his punishing defence.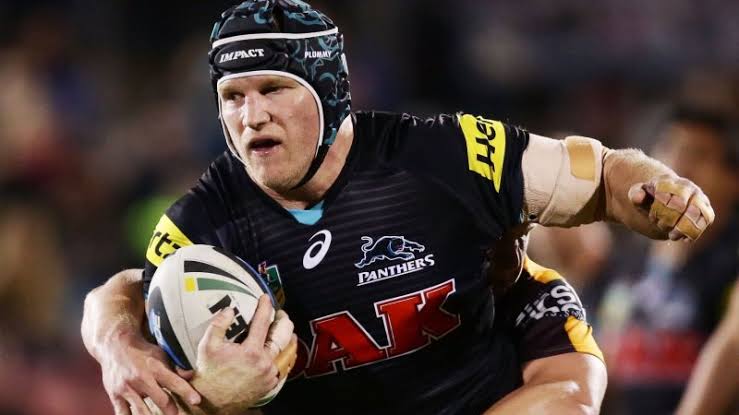 Sam McKendry was a Mount Albert Lions junior (Auckland). He was originally sighted by the Eels, but recruited by the Panthers to play in the juniors in 2006,
He made his first grade debut in 2008, and played 147 games over 11 seasons, scoring 8 tries.
He represented NZ Maori twice, and New Zealand 8 times.
Often an unsung hero for Panthers, he never took a backward step in attack or defence. His career was unfortunately cut short by successive knee injuries.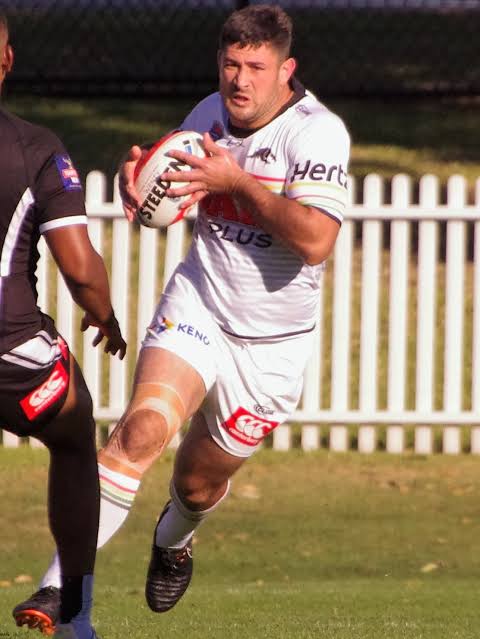 Well deserved to both but here's an interesting statistic (we'll sort of lol)
These two were amongst our highest earning end of year "nudie runners" - for those who didn't score a try in the season.
Goes to show how the game has changes in the last few years, and the talent we have, with both Leota and Fish scoring a few this season.
Two great players though, and as stated Plum is still stated as one of the toughest tacklers of all time.
This coming weeks vote for Hooker will be the last for the year, and we will not be doing nominations this week. We will have a few weeks off to enjoy some time with family and friends, before starting nominations for second row in the first week of the new year.