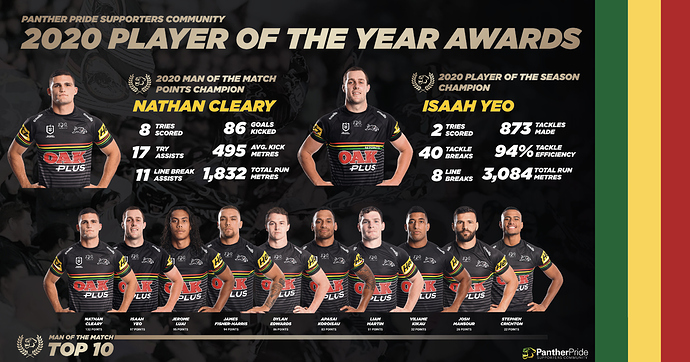 2020 Player of the Season / Man of the Match Champion
It would be a massive understatement to say that the Panthers had a good year. A team who broke their own club record as well as several NRL records for continuous wins, finished to claim the minor premiership with a week still in hand, and gritty semi final wins.
Despite the odds and the scoreline, the Panthers found a way to win. Sadly they fell just short of claiming their third premiership, but have proven themselves they will be a massive threat. So much so that betting agencies have installed Penrith as 2021 Premiership favourites.
It was difficult for Panther Pride members to pick a winner each week as stellar performances across the field made selecting just 3 impossible. In the end though the winner was clear.
The 2020 Man of the Match Points Champion is Nathan Cleary.
The polls for Player of the season also show the difficulty in selecting the player that best displayed the dedication and performance deserving of the award, as the poll spread was wide. Though one player came in mind to most polling over 90% amongst members.
The 2020 Player of the Season Champion is Isaah Yeo.
Both truly worthy winners is a field of amazing performances this year.
The Top 10 Players in the Man of the Match Polling is as follows.
| | Player | Points |
| --- | --- | --- |
| 1 | Nathan Cleary | 132 |
| 2 | Isaah Yeo | 97 |
| 3 | Jerome Luai | 95 |
| 4 | James Fisher-Harris | 94 |
| 5 | Dylan Edwards | 86 |
| 6 | Apisai Koroisau | 83 |
| 7 | Liam Martin | 51 |
| 8 | Viliame Kikau | 32 |
| 9 | Josh Mansour | 26 |
| 10 | Stephen Crichton | 22 |