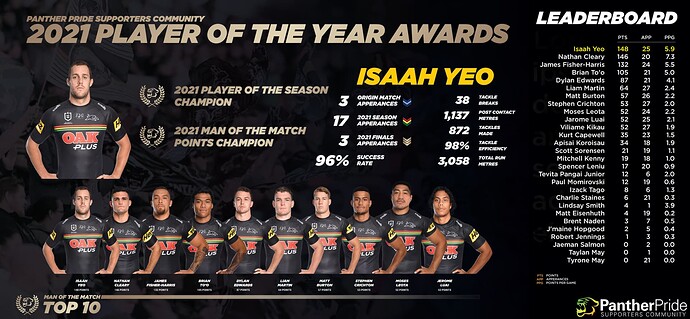 Isaah Yeo has taken out both the Man of the Match total points award and the Player of the Season award.
Not surprising with the mammoth effort he put in this season. Only missing a few game this season mostly due to Origin duties, he made his presence felt front an centre week after week.
Isaah also took away Dally M honours this year, named in the Dally M team of the year at Lock.
In a year where there has been too many quality players to mention, Isaah Yeo was behind the pack in voting until a hard fought finals campaign effort propelled him to the top spot. I couldn't think of a more deserving player to win this years award.
The final places for the Man of the Match points talley are as follows.
| # | Player | Points | Played | PPG* |
| --- | --- | --- | --- | --- |
| 1 | Isaah Yeo | 148 | 25 | 5.9 |
| 2 | Nathan Cleary | 146 | 20 | 7.3 |
| 3 | James Fisher-Harris | 132 | 24 | 5.5 |
| 4 | Brian To'o | 105 | 21 | 5.0 |
| 5 | Dylan Edwards | 87 | 21 | 4.1 |
| 6 | Liam Martin | 64 | 27 | 2.4 |
| 7 | Matt Burton | 57 | 26 | 2.2 |
| 8 | Stephen Crichton | 53 | 27 | 2.0 |
| 9 | Moses Leota | 52 | 24 | 2.2 |
| 10 | Jarome Luai | 52 | 25 | 2.1 |
| 11 | Viliame Kikau | 52 | 27 | 1.9 |
| 12 | Kurt Capewell | 35 | 23 | 1.5 |
| 13 | Apisai Koroisau | 34 | 18 | 1.9 |
| 14 | Scott Sorensen | 21 | 19 | 1.1 |
| 15 | Mitchell Kenny | 19 | 18 | 1.0 |
| 16 | Spencer Leniu | 17 | 20 | 0.9 |
| 18 | Tevita Pangai Junior | 12 | 6 | 2.0 |
| 17 | Paul Momirovski | 12 | 19 | 0.6 |
| 19 | Izack Tago | 8 | 6 | 1.3 |
| 20 | Charlie Staines | 6 | 21 | 0.3 |
| 22 | Lindsay Smith | 4 | 1 | 3.9 |
| 21 | Matt Eisenhuth | 4 | 19 | 0.2 |
| 23 | Brent Naden | 3 | 7 | 0.5 |
| 24 | J'maine Hopgood | 2 | 5 | 0.4 |
| 25 | Robert Jennings | 1 | 3 | 0.3 |
| 26 | Jaeman Salmon | 0 | 2 | 0.0 |
| 26 | Taylan May | 0 | 1 | 0.0 |
| 26 | Tyrone May | 0 | 21 | 0.0 |
* PPG = Points Per Game (Total Points / Matches Played)