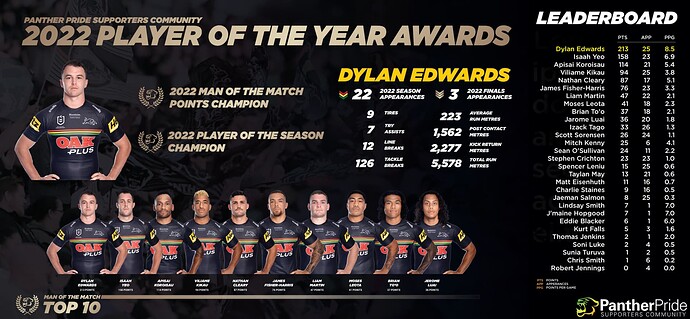 '
Dylan Edwards has taken out both the Man of the Match total points award and the Player of the Season award.
In what has been the season of his career, Dylan Edqards blew away the competition in 2022. With questions marks over his performance in 2021 and the revel of his heroics playing the finals series with a broken foot, he trained down the house in preseason, and was the most consistent player on the field.
Despite not playing any representative football this year, the case could be argues he deserved to be there.
Edward also took away Merv Cartwright Medal and the Panthers Members Player of the year
The final places for the Man of the Match points talley are as follows.
| # | Player | Points | Played | PPG* |
| --- | --- | --- | --- | --- |
| 1 | Dylan Edwards | 213 | 25 | 8.5 |
| 2 | Isaah Yeo | 158 | 23 | 6.9 |
| 3 | Apisai Koroisau | 114 | 21 | 5.4 |
| 4 | Viliame Kikau | 94 | 25 | 3.8 |
| 5 | Nathan Cleary | 87 | 17 | 5.1 |
| 6 | James Fisher-Harris | 76 | 23 | 3.3 |
| 7 | Liam Martin | 47 | 22 | 2.1 |
| 8 | Moses Leota | 41 | 18 | 2.3 |
| 9 | Brian To'o | 37 | 18 | 2.1 |
| 10 | Jarome Luai | 36 | 20 | 1.8 |
| 11 | Izack Tago | 33 | 26 | 1.3 |
| 12 | Scott Sorensen | 26 | 24 | 1.1 |
| 13 | Mitch Kenny | 25 | 6 | 4.1 |
| 14 | Sean O'Sullivan | 24 | 11 | 2.2 |
| 15 | Stephen Crichton | 23 | 23 | 1.0 |
| 16 | Spencer Leniu | 15 | 25 | 0.6 |
| 17 | Taylan May | 13 | 21 | 0.6 |
| 18 | Matt Eisenhuth | 11 | 16 | 0.7 |
| 19 | Charlie Staines | 9 | 16 | 0.5 |
| 20 | Jaeman Salmon | 8 | 25 | 0.3 |
| 21 | Lindsay Smith | 7 | 1 | 7.0 |
| 22 | J'maine Hopgood | 7 | 1 | 7.0 |
| 23 | Eddie Blacker | 6 | 1 | 6.0 |
| 24 | Kurt Falls | 5 | 3 | 1.6 |
| 25 | Thomas Jenkins | 2 | 1 | 2.0 |
| 26 | Soni Luke | 2 | 4 | 0.5 |
| 27 | Sunia Turuva | 1 | 2 | 0.5 |
| 28 | Chris Smith | 1 | 6 | 0.2 |
| 29 | Robert Jennings | 0 | 4 | 0.0 |
| 29 | Robert Jennings | 0 | 4 | 0.0 |