Panthers set to benefit first in NSW stadium cash splurge
Austadiums | 15 November 2021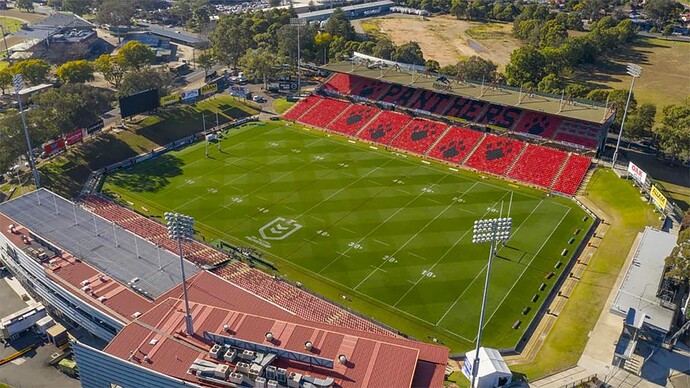 The pieces of the NSW stadium funding puzzle are starting to fall into place, with Penrith on the cusp of securing a new stadium, while Stadium Australia could get a new retractable roof.
Talk of where stadium funding would be directed has been ongoing since the NSW government abandoned the $810 million redevelopment of Stadium Australia in 2020. While the NRL has pushed for the funds to be redirected to the development of boutique stadiums, an upgrade of sorts is back on the table for Sydney's Olympic stadium.
9 News has reported a decision on the list of stadiums to be upgraded is almost finished and will be announced prior to Christmas, as NSW Premier Dominic Perrottet looks to spend $800 million on stadium infrastructure over the next five years.
It's understood Penrith would benefit first, with $300 million to be spent on a brand new 25,000-seat stadium to replace the existing BlueBet Stadium, with construction to begin at the end of the 2022 season. The Panthers would play at CommBank Stadium for two years, before returning to their new home for the 2025 season.
Also expected to receive upgrades is Brookvale Oval and Jubilee Stadium, however the traditional home of the Wests Tigers, Leichhardt Oval, is expected to miss out. It also remains to be seen if a proposed new stadium will be built in Liverpool.
Meanwhile, after Stadium Australia's major redevelopment was scrapped, the Sydney Olympic Park venue could yet receive an upgrade, with a $120 million retractable roof proposed for the venue.
A roof was first proposed as part of a $250 million redevelopment plan back in 2013, before a more significant $350 million revamp was unveiled later that year. A major $700 million redevelopment was announced in 2016, with more detailed plans announced in 2019, before it was sensationally dumped in 2020.
The roof is part of a significant overhaul for Sydney's biggest stadium, to safeguard the venue and state as a major-event destination, to ensure events can proceed in front of more than 80,000 fans regardless of the weather.
The stadium has fallen out of favour with fans in recent years and while a new monster video screen is currently being installed, more is needed to bring it back to world-class status.
The stadium's corporate areas and bar and dining facilities would also be refurbished as part of the upgrade, however the grandstands are expected to remain as is, leaving the stadium halfway between a rectangular and oval venue.
An upgraded Stadium Australia would mean the South Sydney Rabbitohs would likely remain playing home games at the venue, while the NRL would also guarantee the Grand Final remains in Sydney for a further 25 years.
SOURCE