'Waste of time': Panthers fume over Dolphins raid but legend says 'you can't stockpile players'
Mark St John | Fox Sports | 18 February 2022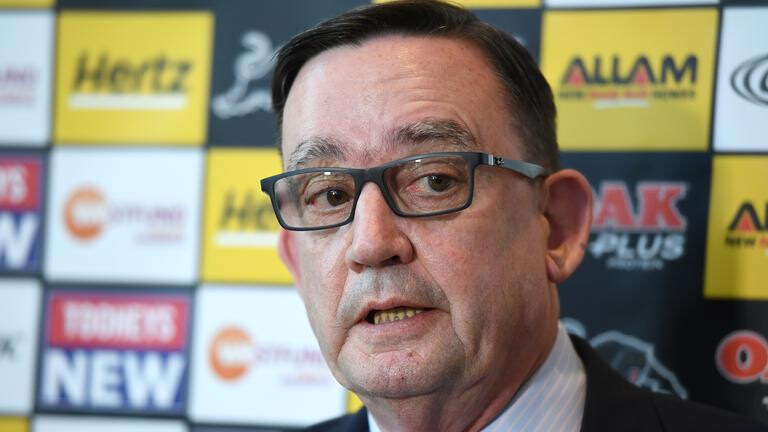 Panthers boss Brian Fletcher has called on the NRL to compensate clubs that develop players after Penrith lost prodigious halfback Isaiya Katoa to the Dolphins.
Katoa, 19, is the brother of former Bulldogs player Sione and despite his path to first grade clearly blocked by Nathan Cleary and Jarome Luai, the Panthers still didn't want to lose arguably one of the best young up and coming playmakers in the game for nothing.
"The Dolphins have injected an outstanding young playmaker into their squad for their entry to 2023 NRL premiership," the Dolphins released in a statement.
Dolphins' chief executive Terry Reader said the acquisition of Katoa was an important investment in the club's long-term future.
"Isaiya is one of the most sought-after young playmakers in the game, so this is a really big coup for the Dolphins," Reader said.
"We have already built significant depth and experience in our forward pack and there is no doubt that this plays a part in enticing young talent to join our squad.
"We recognise the potential Isaiya has and are excited about what he can become when he begins working with head coach Wayne Bennett every day."
On Thursday Channel 9's Ben Dobbin reported on triple M that the Dolphins were set to announce the signing of Katoa on a three-year deal.
"They've snared the best young prospect in the game," Nine News' Ben Dobbin said of Katoa on Triple M.
"This young man has been absolutely ranked by Penrith as the best up-and-comer for his age group, in Australia, at halfback."
The signing development prompted outrage from Penrith boss Fletcher, who wants development clubs like the Panthers to be compensated for the money they put into players that other NRL clubs poach.
"There has to be protection or compensation," Fletcher, who said he will meet with the NRL to try spark change, told The Daily Telegraph.
"It's a waste of time developing them. For us and other developing clubs (rival teams) can just sit there and pluck them out.
"It's frustrating but that's the rules at the moment."
Panthers legend Greg Alexander echoed Fletcher's sentiments, believing that clubs should receive compensation when they develop players to play for NRL rivals.
"He is the younger brother of Sione and grew up through the Penrith pathways," Alexander told SEN's Breakfast with Vossy and Brandy.
"At the moment he is playing very well for the Panthers SG Ball team. He has had a couple of games where he has been the star of the show.
"It is very disappointing when you lose a player that you want to keep, particularly a junior like him who plays in the halves. He is playing halfback for the SG Ball team at the moment.
"It doesn't happen often that you really want to keep a junior and he decides to go somewhere else, but that's what's happened.
"It has caused some problems in the club and I can understand how everyone feels when you develop juniors and they get poached.
"I'm pretty sure there is a nominal fee that is paid by the club that takes him. But it is a very small fee.
"So you are not getting compensated for the money you invest in your player."
While Alexander understands that junior players move clubs all the time, he wants to see the game protect the interests of clubs that develop NRL players consistently.
"There is a lot of movement between clubs and junior players," Alexander conceded.
"But when you lose one that you don't want to lose that's when it hurts.
"I think the NRL should be compensating clubs that develop juniors."
However Laurie Daley believes clubs should not be able to stockpile players that could otherwise be dominating for another team in the NRL.
"This has been an argument that has been going on for years because you have development clubs and you have recruitment clubs," Daley said on The Big Sports Breakfast.
"Penrith are a development club. The Canberra Raiders are a development club.
"But you run the risk of putting all that money into development and then having clubs that just recruit go and pick your best players out of the system and the leave you high and dry.
"But you can't stockpile these good players either.
"So the pathway for this young Katoa if he is as good as we are led to believe, how is he going to play first grade in the next six or seven years behind Nathan Cleary?
"So he is looking for an opportunity."
The facts are that some areas like Penrith possess a greater nursery for players than somewhere like Melbourne that is dominated by AFL, so it is not an even playing field in terms of clubs and their ability to develop players.
However Daley concedes it is frustrating for clubs who invest large amounts of money in players from a young age, that in Katoa's case might now never play first grade for the Panthers.
"I don't agree with the fact clubs don't get dispensation when they develop a junior and they should be encouraged to spend money in the junior league and be encouraged to have those juniors playing for them," Daley said.
"They should have dispensation if there is a certain number of players playing first grade from the local league. But I don't know how you stop it.
"You are blocking his pathway because he is not going to get in front of Cleary and Luai.
"And he is a half. He is 19. He wants to play first grade like all of us at that age and if you are good enough you are old enough."
Daley also understands the argument for players wanting to play for their local club, but concedes that is just a by-product of the professional era that players need to move to rival teams to get opportunities.
"There is a romantic side to having juniors come through and stick with your club and I understand that," Daley said.
"If you are paying this money to develop them you should be compensated at some point if they move on. I get all that.
"But you can't stop someone being a junior at that particular place. His pathway is blocked. You just can't stockpile those players."
Daley pointed to the Warriors and the extensive New Zealand nursery that gets picked apart by the other NRL clubs as another example, so the Panthers are not alone.
"The Warriors are the same," Daley said.
"The Warriors have all those good kids over in New Zealand and they can't keep them all.
"They would love to keep all their best players coming through the juniors over there, but they just get picked off by other clubs.
"So it happens to a few teams, but there are definitely some clubs that are more development clubs and there are other clubs that are recruitment clubs."
SOURCE