Panthers long-standing partnership with OAK Plus
Panthers Media | 29 June 2023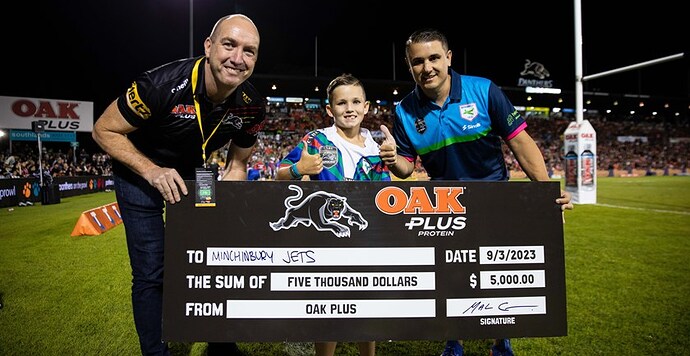 Penrith Panthers can confirm that 2023 will be the final year that OAK Plus will be featured on the front of the Panthers jersey after 12 consecutive seasons.
OAK Plus will continue as a major partner of the club next season, with the brand logo to feature on the 2024 Panthers jersey in a new capacity.
OAK Plus with its 30g of dairy protein per serve will continue to fuel the back-to-back premiership players at training sessions and NRL games in 2024.
The OAK Plus sponsorship of the Penrith Panthers is one of the strongest partnerships in the NRL, and will continue to achieve terrific outcomes for both organisations.
"We are the club's principal partner for the 2023 season, with the OAK Plus logo on the front of the Panthers jersey for a twelfth consecutive year. Our partnership with Penrith is one we are very proud of. The success has been built upon shared values based on teamwork, innovation, high quality performances and a shared focus and support of community in NSW," said Lactalis Australia's General Manager Marketing, Angela Burr.
"Entering our thirteenth year of sponsorship in 2024, we will continue to explore how we can embed innovation and high performance at the core of our partnership. OAK Plus with its 30g of dairy protein continues to power the Panthers players to success, aiding muscle recovery both after training and games. Our involvement with the Panthers includes not just branding, but importantly the work we do together in the community, which we look forward to further developing in 2024."
Panthers Rugby League CEO Matt Cameron thanked Lactalis Australia for their 12 seasons of principal partnership, as well as their commitment as a major partner to the club in 2024.
"Across the past 12 seasons, the Panthers partnership with OAK has thrived on shared values of teamwork, innovation, delivering high-quality performances, and a deep commitment to our community," Cameron said.
"We have enjoyed a rewarding relationship, including sharing in the success of the Panthers back-to-back NRL premierships over the past two seasons. The Panthers organisation are extremely thankful for the unwavering support of Lactalis Australia, and are grateful to have OAK Plus remain as a major partner with the club next season."
The Panthers will announce a new principal partner following the 2023 NRL season. The club won't be making any further comment until the completion of the season.
SOURCE