What jerseys do you have in your collection?
What are some of your favourite jerseys, both Panthers & other clubs?
From my collection:
1971

1976

1988

1991

1995

1997

2000

2004

2008

2019

50th Anniversary

Anzac jersey (can't remember which year)

2021 Premiers

2022 Back to back Premiers

I've long had the goal of having at least 1 jersey from each club, along with a few rep jerseys. Here is what I have so far:
Glebe 1908

Norths 1991

Newtown 1981

Western Reds 1995

Cumberland 1908

Souths circa 2000

St George 1996

NSW 1995

City Origin (unsure of year, late 90s or early 2000s)

As far as Panthers jerseys go, I'd like to see us bring back the brown & white as our alternate strip, preferably the old brown with white V similar to our warm up shirts or the late 80's jersey similar to my 1988 jersey. Use the pink for women in league round only.
If they ever make a remake of this beauty, they can have all my dollars!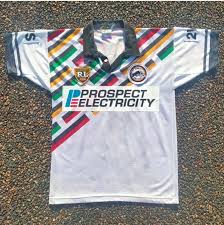 Probably my favourite alternative jersey
If I were designing the 2024 Panthers Jerseys they would look a bit like this…