I'm good, Mutley. Thanks for asking. How are you going? I hope all's good with you.
And I hope we can all celebrate another win this week. I know Kev will celebrate hard!
I'm probably the best I have been in about 5 years. Spent most of that time looking after my sick father (who passed away in November), which was draining. Have been off the drink for a few months, which has helped clear my mind.
Bryan, you have no idea - I am going to be at Panthers tomorrow night with featherweenie supporters, we only have 1 result that will be acceptable…



mutley, great to hear mate - I learnt very early in life that there is always a smile just around the corner. When life seems to be weighing heavy, think of how much you love the things you love and focus on those things, quite often their will be a moment that changes perspectives. As much as your Dad's passing would have hurt, I would bet my bottom dollar your memories far out weigh the sorrow of the passing.
Anyway - GO THE PANTHERS
You've been through an awful time for a long time. I'm glad things are better. Stay safe & stay strong.
I think if you asked me earlier on in the year I would say I wasn't OK.
But I am on the path to being OK now.
There is always a smile around the corner !
tried smiling, but my teeth fell out !!!
And there it is, we are smiling at the sight of a cranky old man trying to smile while his teeth fall out



Hey, Puss, with gums like yours, you could play for the Sharks!


no please, not the Sharks. !!!
Sorry, did you say "Mnoh bleeze! Mnoht de Sarks?"
This week (so far) has been one of the hardest weeks of my life. I have been through tough times before, but this one was so senseless.
One of my best mates at work took his own life on Sunday. None of us saw it coming. He was always cheerful, and the first to help others in need. We never fully know the demons others face, and unfortunately he didn't reach out in his time of need.
It's ok not to be ok. If times are tough, reach out to find a friendly hand. There is always help out there.
If you want you can send me a message on here & I'll get back to you as soon as I can.
After losing 2 friends to suicide in the last year, and having another friend admitted to hospital as a suicide risk, this is more relevant for me now than ever.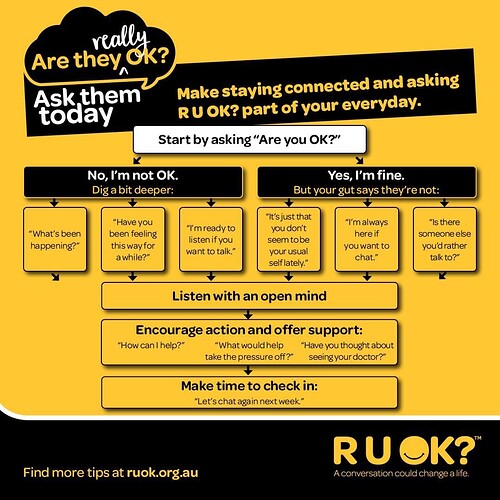 Mutley, keep your chin up pal.
I second that.
Mate we're always HERE if you wanna chat.
I always get a chuckle from Mutleys 'memes', so we owe you a laugh.






Thanks guys, all good here. On leave from work, so no stress other than footy

Hope you are all well
What about this joke:
Guy walks into a bar - ahhh ha ha ha ha ha ha ha ha ha ha ha ha ha ha ha ha ha ha ha ha ha ha ha ha ha ha ha ha ha ha ha ha ha ha ha ha ha ha ha ha ha haaaaaaaaa
2 guys walk into a bar
Boom boom