1-17 Panther tales: Penny pinching, scouting hits and misses that built Penrith
NRL.com | Dan Walsh | 29 September 2021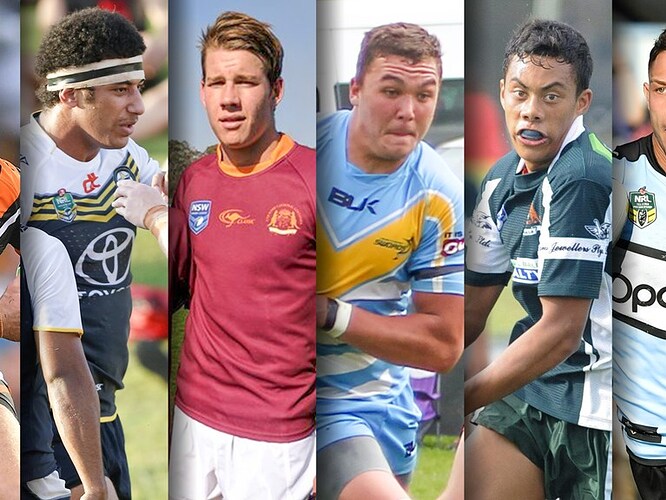 Penrith have been picking the eyes out of more than 8000 juniors either side of the Blue Mountains for several years now.
Where once they couldn't keep, let alone buy back their best local talent, now the Panthers' strike-rate is matched by the stories behind each signature.
Once a landscaper by trade, former Penrith hooker Jim Jones has been scouring the western Sydney savannah for talent for more three decades now as the club's recruitment officer.
Few spin a yarn better than Jones.
From once crossing Liam Martin off his list and only just sneaking Stephen Crichton onto another, to picking up the likes of Brian To'o and James Fisher-Harris for spare change, the ageless Panthers scout talks us through how this grand final 17 came to be.
The Panthers production line
1 Dylan Edwards
Signed as a 17-year-old five-eighth from the mid-north coast but found his way to fullback in under-20s. Established himself as the club's fittest player during his first NRL pre-season by beating backline specimens Dallin Watene-Zelezniak and Waqa Blake in consecutive 400-metre races, before beating the next few runners to step up and challenge him too.
Jones: "You get more tips than a porcupine in this job but Dylan was spotted from some highlights off YouTube. He was working at Gloria Jeans in Nepean as a kid and I'd go in every day. My wife hated the coffee and would get stuck into me: 'we're only coming here because you want to talk to Dylan Edwards'. She wasn't wrong. I'm pretty sure Dylan met his wife working there."
2 Stephen Crichton
Trialled with AFL outfit GWS Giants as a teen and was urged to attend Australian schoolboys basketball trials as well, but brushed them because the rugby league hit-outs were on the same day. Has development coach Ben Harden to thank for tossing him into Penrith's SG Ball squad trials because only 47 of the 50 spots had been filled.
Jones: "Great local boy with so much potential still. There was the back and forth with his last contract when he changed managers and that took a while to tie him up. I wouldn't say we were very worried, uncomfortable is more the word because you never know in those situations but a fantastic kid to keep long-term."
3 Paul Momirovski
Ivan Cleary signed him to join Wests Tigers in 2018, but by the time Momirovski arrived Cleary had returned to Penrith. Requested a release more than once over the summer after James Roberts' signing bumped him down the pecking order, but not until a swap was agreed to with Daine Laurie was Momirovski's wish granted.
Jones: "Ivan had him at the Tigers and we wanted depth at centre. It was tough to let Daine go but you can't keep them all and Momirovski's done exactly what we need out there. Good, honest footballer."
4 Matt Burton
First spotted by Jones playing for Western Rams as a 17-year-old, the Panthers scout bailing him up outside the dressing sheds at Windsor. Canterbury formalised a lucrative two-year offer (with a player option for a third season eventually added) last year within days of November 1. Has been plenty of back and forth around early releases and staying put with Penrith since but Belmore-bound next year.
Jones: "Ivan said to his management 'why don't you wait eight weeks and see how he goes at centre?' during the summer. I didn't think that would amount to anything but jeez, now he's Dally M centre of the year. Canterbury have got themselves a good one."
5 Brian To'o
Just three years ago was still on his original $5000 deal as he rose to NSW Origin under 20s. His 2019 NRL debut a year later saw him upgraded from a development deal to top 30 status and To'o is now buying his parents a house with the $45,000 he earned in Origin match payments this season.
Jones: "Believe it or not he played hooker when he first started and ended up drifting out to the wing. Just kept proving people wrong when they said he was too small. Never been a single drama and you can't help be happy for how well he's going."
6 Jarome Luai
His manager Darryl Mather had Rabbitohs figurehead Shane Richardson chasing Luai long, hard and often after first clocking him with the Junior Kiwis. Penrith scouts in turn had him earmarked for top honours from the age of 15 too as well though, with Phil Gould among those always insisting he stay put.
Jones: "Gus used to put me on the spot and ask 'who's your best kid'. The answer would be Jarome, not Nathan. He could've gone to any club he wanted to be honest but he always said he was willing to wait. How can you not be proud of him now?"
7 Nathan Cleary
Landed in Penrith's junior system when Ivan arrived as first grade coach in 2012. When Cleary snr was moved on at the end of 2015, Nathan signed a two-year extension just a month later and debuted early the next season. He also ignored a get-out clause that allowed him to follow his father to another club, Ivan eventually returning to Penrith the reunite the pair.
Jones: "We had Trent Barrett running a halfback school, he coached Luai and Nathan when they were 15 or 16. I wouldn't say it made them as players but Baz's feedback was very good and it's worked out alright since. Especially considering we had Nathan pencilled in as a hooker to start with."
8 Moses Leota
Played union as a "skinny winger" in New Zealand before shifting to western Sydney to live in his aunty's caravan. Turned up to his first Panthers trial game straight from a full day's work as a brickie's labourer, a routine he kept up for three years until Jim Jones stepped in.
Jones: "Ciro [Panthers assistant Cameron Ciraldo] was blowing up in the 20s because poor old Moses was always late to training, and Ciro was ready to cut him. I said 'hang on, let's ask him why he's late first, he's covered in concrete'. The poor bugger was working himself to the bone with that labouring so I lined him up another job detailing Volvo cars and he never missed a day of work. One of the best stories we've got."
9 Api Koroisau
Was all but across the line to join Canterbury after touring his junior club in 2019. Coach Cleary stepped in on the Panthers' behalf and sized Koroisau up over coffee at his house, bringing the No.9 back to Penrith after both had exited within weeks of each other in 2015.
Jones: "Ivan really led that one as far as the recruitment and retention committee was concerned, and obviously Trent Barrett knew how Api had progressed having coached him at Manly."
10 James Fisher-Harris
Earned a $600 a month living away from home allowance when he first arrived in Penrith's SG Ball ranks from New Zealand, living above horse stables for 18 months. His estimated $3 million, four-year extension earlier this year now makes him deservedly one of the highest-paid props in the NRL.
Jones: "Gus got him from New Zealand after watching him play right up north of Auckland. Peter Mulholland [Canberra's veteran recruitment chief] bailed me up after an SG Ball game when Fish first arrived. 'Who's this? Where'd you find him?' I couldn't remember his name but told Pete 'bugger off, he's ours' anyway."
11 Viliame Kikau
Phil Gould beat not just the Cowboys, but Parramatta and Melbourne among others to the big man when he was turning heads in the NYC, Gould flying Kikau down from North Queensland to Sydney in 2015. Fijian teammate Api Koroisau was in his ear with some rudimentary Fijian as well after French rugby union outfits had already sniffed around. NRL rivals and rah rahs are lining up once more as Kikau comes off-contract again.
Jones: "We'll certainly try to keep him and I'd say if it's a matter of similar offers the chance to stay with his mates and stay with Penrith will have us in with a very good shout. If someone comes with $1 million though, we're just not going to be able to compete unfortunately."
12 Kurt Capewell
Ivan Cleary pursued Capewell more than once over the years, including midway through 2019 while at the Tigers. Finally got ahold of him in November that year when he had returned to Penrith, trumping the Dragons after Cronulla's salary cap punishment squeezed him out of The Shire.
Jones: "Ivan's always had a big opinion of him and pushed that one. He loves the utility value Capewell offers and rated his character. You always sit up and listen when the coach pushes for someone like that."
13 Isaah Yeo
Jones first came across Yeo as a selector in a schoolboys tournament at Redbend college in Forbes, having to convince a fellow judge to keep Yeo in a probables 17. Penrith's first success story when they made western NSW a targeted breeding ground a decade ago.
Jones: "Often the country kids will finish school at home so they'll keep playing with their local team after SG Ball finishes mid-year. I got a call from St Johns Dubbo, 'who's running the show down there, Gould?' I couldn't fathom how with a kid like that, but usually that type call is because someone's got themselves in trouble, so I told him Gus is in charge and was putting it all on him. 'Just wanted to say sending Isaah back here to play is the best thing anyone's done for Dubbo rugby league in a long time'… 'well actually I do a lot of the work'."
14 Tyrone May
A regular of Penrith's prize-winning junior teams, May helped guide the club in Matt Moylan's absence to the 2017 finals on a cut-price rookie deal. Was extended a few months after suffering a long-term ACL rupture and has returned as a utility following 2019's sex-tape scandal.
Jones: "Came through the junior reps and was a guy you always ended up picking somewhere. Hooker, lock, halves – he'd always offer something so you always found a spot for him. His best position was five-eighth as a kid but he adapted with Nathan and Jarome there."
15 Scott Sorensen
Let go by the Sharks last year and couldn't get a single NRL look-in over the summer, and copped a few knockbacks from Super League as well, before Cameron Ciraldo expressed interest. Met with the Panthers in early January, signed within a week and extended for another two years in July.
Jones: "Came over for an opportunity and the club's upgraded him now. Real value signing because when he got here he wasn't in the top 17. Now he's making a massive difference in finals games, that type of signing doesn't get much better than that."
16 Spencer Leniu
Impressed Melbourne coaches during a seven-a-side scrimmage last year when COVID-19 saw fringe NRL players struggle for game time. Subsequently spoke with Craig Bellamy more than once via zoom, but ultimately knocked back interest from the Storm, Bulldogs and Dragons to stay with his junior club.
Jones: "He's still got a lot of potential, we'd like to have got his minutes up a bit more now but it's tough without the reserve grade so you haven't seen the best of him yet. He and Shawn Blore came through together and jeez they were a very good front-row pairing."
17 Liam Martin
Turned up in Sydney on work experience with Royce Simmons' brother Hayden, who in turn invited him to meet Jones and pinch a Panthers tracksuit. Was given a spot in the 2015 SG Ball squad with mum Maxine driving 10-hour round trips from Temora to Penrith with Martin in the back doing his homework.
Jones: "I remember saying to his mum that ideally he'd be at training two or three nights a week. Maxine responded very firmly that we would see him every Friday. Given the distance I honestly crossed his name off the list when I looked around a training session and couldn't see the kid from Temora. Then one of the coaches dragged us over to watch this unknown country fella belting kids that were double his size, no one wanted to run at him. I wrote his name back down quick smart."
SOURCE