Hottest temperature game that has been played
Interesting question,
I am unsure we're to find records, except
For cross checking bom records with game days, but I do recall a round 1 or 2 game at Penrith played in the 40's. I think it was 2018 or 2019
I also recall a hot game was played at Canberra again maybe 5-8 years ago. I believe they also hold the record of the coldest NRL - minus 8 and snowing from memory
Not sure if it was the hottest, but I remember us playing against the Knights in a season opener a few years back when the temperature was high 30s.
I am sure that Knights game is the one I remember, it was 43-45 that day, and dropped to about 39 at kickoff
Round 1, 2011. We wore our black jerseys, knights wore their white jerseys. We looked gassed after about 10 minutes & got belted 42-8.
Wow 12 odd years ago, how time flies
Oh man I remember that one. It wasn't so much the heat as much as the humidity. I remember it poured rain in a storm after a hot day before hand and it was muggy on the day of the game.
We wore black like mutley said and we looked dead on our feet early on in the game… we got belted. The fans did not fare much better as I do remember the First Aid station with a few fans suffering form heat stroke.
Could have sworn that day was somwhere in the 30º's but the RH% was through the roof. I'll see if I can get the weather from the Internet Archive.
EDIT: Yeah, just as I remember it… 33ºC with a RH% of 98%!!!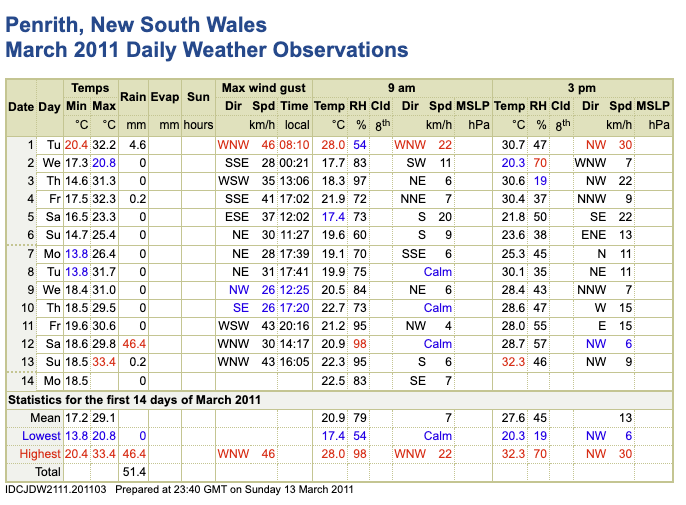 Source: BOM via Internet Archive
Penrith vs Newcastle 13 March 2011 was 33c at kick off.
The game started 3:00pm back 2011
The current forecast for the GF is 31 degrees at 7pm