Why Brian To'o will wear the name of every teammate on his boots
Adam Pengilly | Sydney Morning Herald | September 21, 2022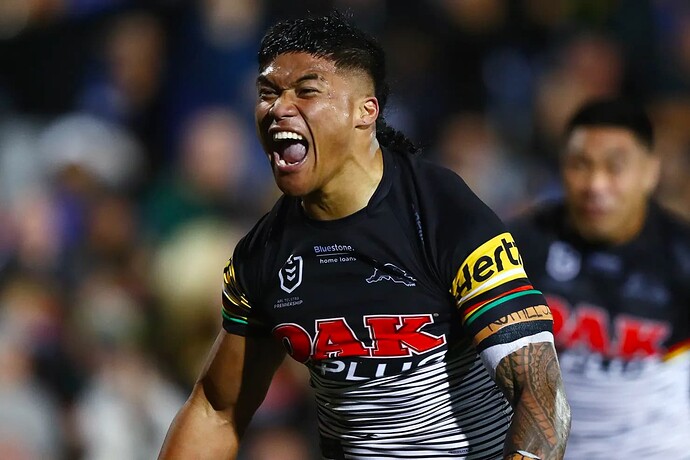 There are many ways to demonstrate how close a squad can be, but Brian To'o is going to extreme lengths to prove that's the case at the Panthers – wearing every one of his teammates' names on his boots.
A man known for his flamboyance and love of boom boxes, To'o has been strutting around Penrith training in the build-up to the grand final qualifier against South Sydney with some eye-catching footwear.
In fact, the State of Origin winger has asked every one of his Panthers teammates to sign his rainbow-coloured boots, which he plans to give to a young child from the district.
While it's not uncommon for players to have custom-made footwear – Nathan Cleary wore gold boots when he was sent off for a lifting tackle on Dylan Brown in July – few go to the lengths To'o has to have autographs in permanent marker splashed across them.
And who knows, by the end of the grand final they might be a very valuable collector's item if the Panthers go back-to-back.
"I will give the boots to one of the young kids in the area, who'll be someone who needs them," To'o said. "All of the boys have signed them.
"I'm a giving person and I like to give back to people who deserve it, especially the younger generation. This is the first time I've done something like this, and I want to help the kids who are big fans of the Panthers, giving them something to look forward to.
"I hope when they grow up they will be able to do something similar."
While the boots show a softer side to the NRL's ultimate metre eater, To'o has the serious business of helping fire the Panthers to a third straight grand final.
He's likely to move from the right to the left wing given the suspension of rookie Taylan May, paving the way for Charlie Staines to return to his more familiar flank.
There's one member of the Rabbitohs line-up To'o needs no introduction to. He will line up opposite former NSW teammate Latrell Mitchell, who he played outside with stunning success during last year's Origin series.
Mitchell has helped drive South Sydney to within 80 minutes of a grand final, and Penrith players were only too aware of the risk he poses to their season.
"Big Trelly; from experience playing alongside him he's just a beast player," To'o said. "He's a mad leader and gets all the boys on his back to lead the charge. I'll be looking forward to going up against big Trell and the boys will do their work on him.
"[The Rabbitohs] are going to be hungry this week and I think that's what makes them dangerous. That's something we're really looking forward to and it will be a big challenge.
"Every team is a big chance of winning a grand final. We're just a team that does our thing and looking forward to the big challenges coming up."
SOURCE