This will be an each way bet for me - Wigan are my Super League team




If Penrith win the WWC as well… they my need to get a bigger foyer.

Where do you think World Club Challenge will be play ?
It's supposed to be in England next year, but it looks like they want to come out here, so I won't argue
I do really want to get excited about the WCC… but I constantly find myself not giving a toss about them.
Who's the better side… the NRL side. You don't need to play a game of football to work that out. Any NRL side (including the cellar dwellers) are better just by the mere fact they are a NRL team.
The UK Super League is a rabble and their management can barely run a chook raffle yet alone a RL World Cup or a top flight competition.
The ESL club with the best finances was the Salford Reds who posted a £580,547 LOSS for the year. They barely scraped into the finals.
So if they want to go home with some shiny hardware to make themselves feel good, then so be it, But everybody know who the better side is. This is a NRL trial at best to the Australian side.
I'd prefer if they played the game a couple of weeks after the respective Grand Finals. Teams lose players & cohesion over the off season.
Just look at this year. You can't tell me that Penrith were in to win that as much as St Helens… I think Penriths main concern was not to have any injuries going into round 1. It didn't work out as poor Taylan May had to spend the season on the sidelines because of some reckless play from the Saints resulting in a cannonball tackle that should have resulted in a sin binning.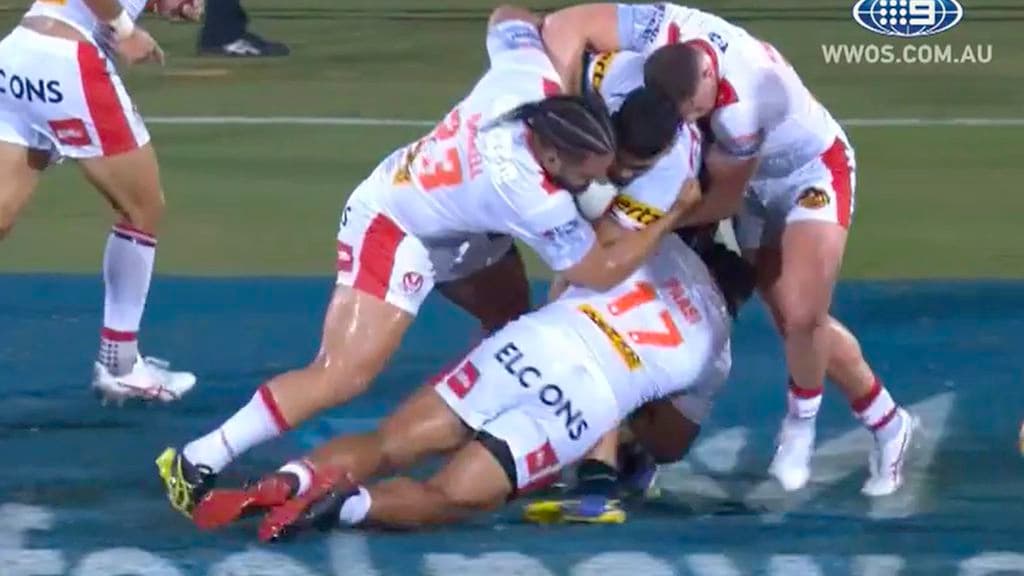 The St Helens team and fans left the stadium feeling like world beaters, while the Panthers side got back up and dusted themselves off and set off for the 2023 season. The Panthers went off on a hard fought season against some stiff competition, ending in what will be regarded as not only one of the best grand finals in history, but one of the best title defences in the modern era, sealing their third consecutive title.
St Helens… well… there is a reason we aren't playing them in the WCC next year.
I'll believe when I see if the Panthers come to England, that's vanishing unlikely. but of course you'd be very welcome. I was there watching us beat Cronulla a few years ago. I always liked Jimmy Maloney, and was glad of the chance to see him play in the flesh. And lose, of course. But, like I say, that's all pie in the sky.
It will be bloody cold and miserable in Northern England in February on top of the hideous flight its not ideal prep for the NRL season…best if they come here and enjoy some sunshine and western Sydney hospitality. Most importantly lets hope there are no injuries in what really is a pointless game…Panthers rule the world thats obvious isnt it?
Yeah, I'm honestly surprised by the talk of the Panthers coming to the UK. Do they want to avoid the NRL pre-season comp for some reason?
I think the pre-season cup has a higher chance of long term injuries. There were a few players coming out of that competition sitting on the sideline for all on 2023.
That could be it, then. Although,of course, there's as much chance of a player getting a season-ending injury at any time, even in the first 'proper' game of the season.
I was at that game at Anfield. Brandy Alexander! Still remember the long motorway journey (I didn't live in the North of England back then).
Panthers to face Wigan in World Club Challenge
Panthers Media | 1 December 2023

Penrith Panthers is pleased to confirm that the club will travel to England to contest the World Club Challenge against Super League Champions Wigan Warriors.
The game will take place at the DW Stadium in Wigan on Saturday 24 February at 8:00pm (Sunday 25 February 7:00am AEDT).
Wigan Warriors defeated Catalans Dragons 10-2 in the Super League Grand Final to become Super League Champions in October while Penrith Panthers were victors over the Brisbane Broncos in the NRL Grand Final to set up this mouth-watering Clash of the Champions.
The match will be the second time the two sides have met in a World Club Challenge with Wigan winning the previous encounter 21-4 at Anfield in 1991.
The Panthers will be looking to claim its first World Club Challenge title in the club's fourth appearance.
This game will be Wigan's ninth attempt at becoming World Club Champions, having claimed the title in 1987, 1991, 1993 and 2017.
Panthers Rugby League CEO Matt Cameron said: "We are excited to travel to England next February to test ourselves against the Super League Champions Wigan Warriors."
"The World Club Challenge is such a vital piece of the rugby league calendar and we're looking forward to contesting the match for a second straight year.
"Wigan are a proud rugby league club that have achieved sustained success for many years, which will give the Panthers an exciting challenge to open the 2024 campaign."
Wigan Warriors Chief Executive Kris Radlinski said: "We are thrilled to announce that the 2024 Betfred World Club Challenge against the Penrith Panthers will be held in Wigan.
"In recent weeks, substantial efforts have been invested to ensure the game takes place, fuelled by a keen interest from the Panthers to participate.
"This presents a fantastic opportunity for our club to host one of the NRL's most formidable teams, providing a special treat for Wigan fans and rugby league enthusiasts alike. Anticipation is high and we promise to put on a show."
Ticket details for the game along with details of events leading up to the game will be released shortly.
Rugby League Commercial Managing Director Rhodri Jones said: "The Betfred World Club Challenge is a mouth-watering fixture to relish in the opening weeks of our 2024 season, as two of the world's great Rugby League clubs meet in Wigan.
"All credit must go to both clubs for the collegiate way discussions have taken place to confirm the fixture.
"It promises to be a very special night, with Penrith determined to be crowned world club champions for the first time, and Wigan are looking to extend their wonderful history in the World Club Challenge stretching back almost four decades, including a previous victory against the Panthers."
SOURCE